The most comprehensive post about this addicted plagiarizer:
42 cases of plagiarisms or copyright infringements
by Jacek Margolak
(2005-2012)
W artykule
Knots in Wood
zamieszczonym na stronie Grandpa Cliff's Science Website for Teenagers - jak widać dorośli też mogą na nią zaglądać - znajdują się dość ciekawe informacje (tekst i zdjęcia) o sękach
. Dowiedzieć się z niego można na przykład, jak one powstają.
This is a KNOTHOLE formed in the board of a fence
after the knot fell out.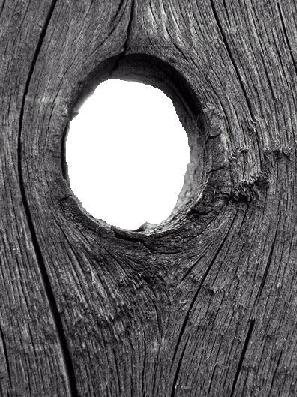 Z mojego postu natomiast dowiemy się, jak powstają niektóre haigi haijina Jacka Margolaka.
.
wtorek, 14 lutego 2006

Inwencja Mistrza Jacka Margolaka, Mistrza używania cudzych zdjęć do swoich haig, polega - w tym konkretnym przypadku - na wpakowaniu Księżyca w czarną dziurę.

Ciekawa?
Ciekawe, co na to Hawking?
Czarna dziura nie ma włosów, Jacek Margolak je posiada, a moje jeżą się na głowie.

***
Czy w przypadku Jacka Margolaka było to FAIR USE?
Dla przypomnienia:
FAIR USE / DOZWOLONY UŻYTEK
Prawo dozwolonego użytku wykraczającego poza zakres osobisty wymaga zawsze wymienienia źródła i nazwiska oraz imienia twórcy. O ile ustawa nie określa tego inaczej, właścicielowi majątkowych praw autorskich zawsze przysługuje prawo do roszczeń majątkowych z tytułu użycia jego utworu na zasadach dozwolonego użytku
[5]
.
Prawo federalne USA definiuje zasady dozwolonego użytku (
fair use
) w paragrafie 107 "Copyright Act of 1976". Paragraf ten "zawiesza"
penalizację
i możliwość dochodzenia roszczeń z tytułu praw autorskich w przypadku
"uczciwego" użycia kopii utworów w celu krytyki, komentarza, informacji o aktualnościach, nauczania, prowadzenia badań. "
Uczciwe" użycie utworu jest wg tego zapisu rozpoznawane w oparciu o następujące kryteria:
[6]
cel i charakter użycia dzieła, w szczególności kwestia, czy zostało ono użyte w celu komercyjnym czy niekomercyjnym i edukacyjnym
rodzaj i natura użytego dzieła
proporcja objętości i znaczenia fragmentu użytego dzieła w stosunku do całej jego objętości, a także objętości i znaczenia dzieła pochodnego, w którym ten fragment został użyty
rezultaty wpływu użycia tego dzieła na jego sprzedaż oraz wartość na rynkU
źródło: Wikipedia.org/wiki/Dozwolony Użytek